Johnson Akinnawo, FCA
Mr. Johnson Akinnawo has over 25 years of progressive experience within world-class global multi-million dollars institutions in the Public, Private and multilateral development institutions. He currently heads the Origination, Contract Management & Administration Department of NBET. On this role he is responsible for the management of NBET's contractual relationships with Generations Companies (GenCo's), Distribution companies (DisCo's), the Regulator (NERC), Market Operator (MO), System Operator (SO), and other stakeholders in the budding Nigerian Electricity Supply Industry (NESI). His responsibility also includes directing IPP planning and procurement activities through contract negotiations, managing portfolio risks and ensuring regulatory compliance.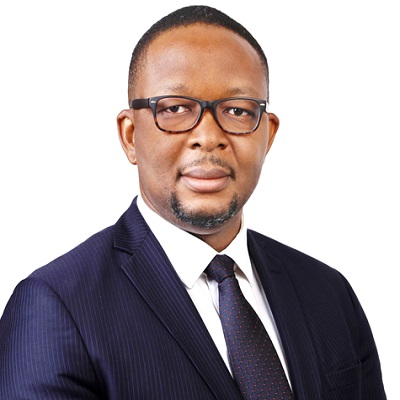 He was the pioneer Financial Controller of the Nigerian Bulk Electricity Trading Plc (NBET) in 2012, where he architected the seamless set-up of NBET's accounting systems, designing and implementing transparent controls, successfully managed all market receipts from DisCos and payments to GenCos, including government support funds, a sum in excess of N1.5trillion without any reported loss in funds, error or fraud. Since January 2017, he has been part of the team that successfully managed the disbursement of over N701billion from the FGN CBN/NBET Payment Assurance Facility (PAF) fund of N701billion and the N600billion expansion of the same facility.
He was also head NBET's Guarantees and Risk Management Department, from 2019 to December 2020 where he was responsible for the efficient and effective management of the company's suites of guarantees and providing leadership in the administration of sovereign guarantees in the form of Partial Risk Guarantees (PRG), Put-Call-Options Agreement (PCOA) with other forms of payment guarantees.
Prior to joining NBET in 2012, Mr Akinnawo was Senior Director of Finance at the Research Triangle Institute (RTI) Nigerian LEAD Project, a USAID funded governance project, and had also been Financial Management Consultant for the World Bank funded, Science and Technical Education Post Basic Educational (STEP-B) Project. He was a Principal Accountant and head of the Loans & Advances section of the Finance Department of the National Board for Technical Education, a role he exited from, in 2008 to join the World Bank funded STEP-B Project.
A 1994 graduate of Accounting and Finance, he also holds a Master's in Business Administration (MBA)-2001. He qualified as Chartered Accountant (ACA) in 2002 and attained the esteemed rank of Fellowship (FCA) of the Institute of Chartered Accountants of Nigeria (ICAN) in 2014. Mr Akinnawo, is an APMG Certified PPP Professional (2018), and has undertaken extensive strategic executive courses at Wharton Business School, University of Pennsylvania, Harvard Law School, University of Florida, London Business School, Aarhus University, Denmark and the Lagos Business School, Pan African University.
Mr Akinnawo is married and blessed with children. He is an ardent believer in reforms, assiduous advocate for systems improvement, a methodical organizer and an incurable optimist.